Aluminium Cans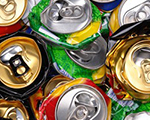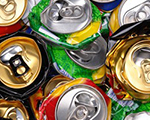 Scrappys accepts all aluminium cans for recycling or we can deliver a scrap metal bin to your premises.
In Australia, over two billion aluminium cans are recycled every year. Roughly ten percent of Australia's electricity goes into making brand new aluminium – using recycled aluminium cans to make new aluminium saves a huge amount of energy.
Make sure your aluminium cans are empty. Aluminium cans which only contained thin liquids like soft drink or juice do not need to be rinsed. If you shake them out until there are no more drips, that's clean enough. When the y are taken for recycling the cans are crushed, then melted in a furnace. The liquid aluminium is then placed in moulds for shaping new aluminium products.
Did you know?
Recycling just one aluminium can saves enough energy to power a TV set for three hours.
Recycling aluminium cans saves 95 per cent of the energy it would take to make new metal from bauxite ore.
At Scrappys Metal Recycling Pty Ltd it is our first priority to provide the highest level of scrap metal recycling services to all of our domestic, commercial and industrial customers. We pride ourselves on our professionalism and dedication to customer service.
We provide a convenient drop off service for all of our domestic and residential customers. We specialise in removing your whitegoods, old appliances, fridges, freezers, aluminium cans, old metal roofing – and that is only the start! If you have scrap metal you want removed, call us now to arrange a collection or delivery of a scrap metal bin.
Scrappys buys the full range of scrap for recycling including copper, lead, stainless steel, scrap whitegoods, brass, nickel, steel, aluminium cans, PVC and wire. Plus scrap cars, machinery, radiators, batteries, pipes, off-cuts, extrusion, pressings and more.
Our scrap metal recycling centre is conveniently located in Sunshine, the heart of Melbournes Western suburbs. We offer a wide range of scrap metal recycling resources to industrial, business, commercial, residential and domestic customers. This includes competitive scrap metal recycling prices for all metals and recycling programs tailored to suit our clients.