Copper Recycling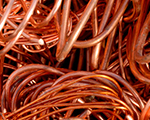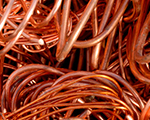 Scrappys incorporates copper recycling for all unwanted and scrap copper items. We provide competitive copper recycling prices together with an ethical and transparent approach.
Items containing copper can be found in a lot of items and our customers will receive top prices after collecting from house renovations, property clean outs, deceased estates or simple trade surplus etc.
Types of Copper we recycle:
Pure copper has the best electrical and thermal conductivity of any commercial metal. Over half of the copper produced is used in electrical and electronic applications.
Copper also forms alloys more freely than most metals and with a wide range of alloying elements to produce the following alloys:
Brass is the generic term for a range of copper-zinc alloys with differing combinations of properties, including strength, machinability, ductility, wear-resistance, hardness, electrical and thermal conductivity, and corrosion-resistance.
Bronze alloys are made from copper and tin, and were the first to be developed about four thousand years ago. They were so important that they led to a period in time being named the Bronze Age.
Gunmetals are alloys of copper with tin, zinc and lead and have been used for at least 2000 years due to their ease of casting and good strength and corrosion resistance. Most typically used as ammunition, as the name suggests
Copper-nickel alloys have excellent resistance to marine corrosion and biofouling.  The addition of nickel to copper improves strength and corrosion resistance, but good ductility is retained.
Nickel silver alloys are made from copper, nickel and zinc, and can be regarded as special brasses. They have an attractive silvery appearance, slightly different to the typical brassy colour.
Beryllium copper is the hardest and strongest of any copper alloy, in the fully heat treated and cold worked condition. It is similar in mechanical properties to many high strength alloy steels but, compared to steels, it has better corrosion resistance.
Please call us to gain an understanding of our commitment to copper recycling.
Copper items we recycle at our establishment:
Millberry Copper
Candy Copper
Burnt Copper
Tinned Copper
Copper Wire
Domestic Copper
PVC Insulated Copper
Armoured Copper Cable
Mixed Brasses
Bronzes
Radiators
Along with copper, Scrappys buys the full range of scrap for recycling including lead, stainless steel, scrap whitegoods, brass, nickel, steel, aluminium, PVC and wire. Plus scrap cars, machinery, radiators, batteries, pipes, off-cuts, extrusion, pressings and more.
Our scrap metal recycling centre is conveniently located in Sunshine, the heart of Melbournes Western suburbs. We offer a wide range of scrap metal recycling resources to industrial, business, commercial, residential and domestic customers. This includes competitive scrap metal recycling prices for all metals and recycling programs tailored to suit our clients.