Lead Acid Batteries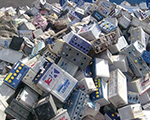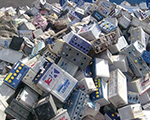 Scrappys accepts all lead acid batteries for recycling.
Recycling lead acid batteries is one of the most successful recycling programs in the world. Used lead acid batteries are classified as hazardous waste under the Hazardous Waste Act 1989 and should not be disposed of with the regular garbage. All lead acid batteries contain about 2-3 litres of sulfuric acid, as well as lead, both of which are toxic. Lead is a cumulative poison in our bodies and is also harmful to the environment, particularly fish, animals and plants. More than eighty thousand tonnes of lead acid batteries are finished with each year. As hazardous waste, it is important these do not go to landfill.
Lead acid batteries can be reconditioned or recycled into new products. Recycling of lead acid batteries uses less energy than refining primary ore and removes lead from the environment. Through the recycling process the various components of lead acid batteries are recoverable to 96%. The materials extracted are used in the remanufacturing of batteries and plastic moulding applications, whilst the acid is neutralised and discharged.
At Scrappys Metal Recycling Pty Ltd it is our first priority to provide the highest level of scrap metal recycling services to all of our domestic, commercial and industrial customers. We pride ourselves on our professionalism and dedication to customer service.
We provide a convenient drop off service for all of our domestic and residential customers. We specialise in removing your whitegoods, lead acid batteries, fridges, freezers, aluminium windows, old metal roofing – and that is only the start! If you have scrap metal you want removed, call us now to arrange a collection or delivery of a scrap metal bin.
Scrappys buys the full range of scrap for recycling including copper, lead, stainless steel, scrap whitegoods, brass, nickel, steel, aluminium, PVC and wire. Plus scrap cars, machinery, radiators, batteries, pipes, off-cuts, extrusion, pressings and more.
Our scrap metal recycling centre is conveniently located in Sunshine, the heart of Melbournes Western suburbs. We offer a wide range of scrap metal recycling resources to industrial, business, commercial, residential and domestic customers. This includes competitive scrap metal recycling prices for all metals and recycling programs tailored to suit our clients.