Mixed Metal Recycling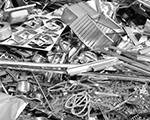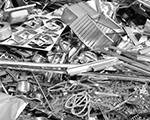 Scrappys caters for all types of customers mixed metal recycling requirements – Commercial, Industrial and Domestic.
Commercial and Industrial Mixed Metal Recycling Services
In dealing with the commercial and industrial sectors we have developed many processes involving a full range of bins (including a made to order facility) for mixed metal recycling. These valued customers specific service requirements are provided in a professional and efficient manner. We offer machinery removal and relocation expertise, plus factory clean outs together with a total shut down capability.
Our scrap metal transport logistics provide the most appropriate transport combinations. These are supplied to maximise our ability to service all our customer requests.
Our position as an accredited mixed metal recycling service allows us to offer competitive scrap metal prices to our valued clients. We also provide timely updates as required. We service the retail sectors offering a wide range of services including an income generation system for whitegoods, heaters, dryers, refrigerator units, microwaves and hot water services. We supply a professional service to the plumbing industry including a professional and reliable roofing iron removal and mixed metal recycling service.
Domestic Mixed Metal Recycling Services
We supply a full range of services to the domestic sector to remove and recycle a wide range of products ensuring that these items are not destined to end up as landfill. We provide a professional service ensuring residents, landlords and agents can have properties cleared of mixed metallic items and remove the need for rubbish bins and awaiting council hard rubbish drives.
We will remove the following items for our mixed metal recycling facility: car parts, panels, hot water services, heaters, roofing, sheds, cladding, copper, taps, metal tiles, gates, wire, metal fencing, garage doors, cars, steel grills, aluminium windows, tools, engines, drums, steel furniture, tables, filing cabinets, photo copiers, computers, fax machines, clothes dryers, washing machines, air conditioners, refrigerator units, freezers, heaters, ducting, guttering, down pipes, pots & pans and utensils.
We provide this professional and timely service so that all these materials are recycled in a responsible manner thus protecting our natural resources. Scrappys is committed to protecting our environment through responsible recycling practices.
At Scrappys Metal Recycling Pty Ltd it is our first priority to provide the highest level of scrap mixed metal recycling services to all of our domestic, commercial and industrial customers. We pride ourselves on our professionalism and dedication to customer service.
We provide a convenient drop off service for all of our domestic and residential customers. We specialise in removing your whitegoods, old appliances, fridges, freezers, aluminium windows, old metal roofing – and that is only the start! If you have scrap metal you want removed, call us now to arrange a collection or delivery of a scrap metal bin.
Scrappys buys the full range of scrap for our mixed metal recycling facility including copper, lead, stainless steel, scrap whitegoods, brass, nickel, steel, aluminium, PVC and wire. Plus scrap cars, machinery, radiators, batteries, pipes, off-cuts, extrusion, pressings and more.
Our scrap mixed metal recycling centre is conveniently located in Sunshine, the heart of Melbournes Western suburbs. We offer a wide range of scrap metal recycling resources to industrial, business, commercial, residential and domestic customers. This includes competitive scrap metal recycling prices for all metals and recycling programs tailored to suit our clients.