Plumbing Industry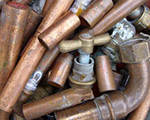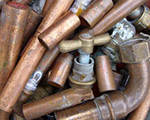 Scrappys will recycle all products from within the plumbing industry.
Scrappys provides a full range of services to the plumbing industry including supplying transport to remove old lead pipe, copper tubing, mixed brass, hot water systems, bath tubs and other plumbing related items. Collection bins can be delivered onsite for the duration of the project. Trucks and semi trailers are available for removing air conditioning units, hot water services, heaters etc.
We accept the following plumbing industry items:
Copper Tube
Domestic Copper
Mixed Plumbers Brass
Lead
Stainless Steel
Gun Metal
We will provide this service anywhere in the greater Melbourne metropolitan area. Our scrap metal transport logistics can supply any type of vehicle necessary to work in with companies performing crane lifts of large components to be recycled. We have extensive experience of supplying resources to the plumbing industry including contractors and tradesmen.
At Scrappys Metal Recycling Pty Ltd it is our first priority to provide the highest level of scrap metal recycling services to all of our domestic, commercial and industrial customers. We pride ourselves on our professionalism and dedication to customer service.
We provide a convenient drop off service for all of our domestic and residential customers. We specialise in removing your whitegoods, hot water systems, fridges, heaters, aluminium windows, old metal roofing – and that is only the start! If you have scrap metal you want removed, call us now to arrange a collection or delivery of a scrap metal bin.
Scrappys buys the full range of scrap for recycling including copper, lead pipe, stainless steel, scrap whitegoods, brass, nickel, steel, aluminium, PVC and wire. Plus scrap cars, machinery, radiators, batteries, pipes, off-cuts, extrusion, pressings and more.
Our scrap metal recycling centre is conveniently located in Sunshine, the heart of Melbournes Western suburbs. We offer a wide range of scrap metal recycling resources to industrial, business, commercial, residential and domestic customers. This includes competitive scrap metal recycling prices for all metals and recycling programs tailored to suit our clients.