Railway Line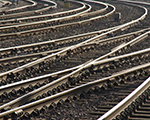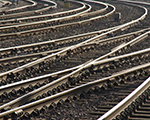 Scrappys recycles and processes all forms of railway line and associated steel plate, pins and vehicles from the rail industry.
This Heavy Melting Steel (HMS) is highly sort after as its specific gravity ensures remelt facilities with a prime source of furnace feed. We can supply a range of options to recycle all railway line and associated products from the rail industry.
Our scrap metal transport logistics can provide a range of options available within 2 working days notice. We can provide a range of high sided tray truck transport for railway line and steel plate up to 5 metres and tray truck transport for lengths up to 6 metres.
At Scrappys Metal Recycling Pty Ltd it is our first priority to provide the highest level of scrap metal recycling services to all of our domestic, commercial and industrial customers. We pride ourselves on our professionalism and dedication to customer service.
Scrappys buys the full range of scrap for recycling including copper, lead, steel plate, scrap whitegoods, brass, nickel, heavy melting steel, aluminium, PVC and wire. Plus scrap cars, machinery, radiators, batteries, pipes, off-cuts, extrusion, pressings and more.
Our scrap metal recycling centre is conveniently located in Sunshine, the heart of Melbournes Western suburbs. We offer a wide range of scrap metal recycling resources to industrial, business, commercial, residential and domestic customers. This includes competitive scrap metal recycling prices for all metals and recycling programs tailored to suit our clients.