Recycling Insulated Cables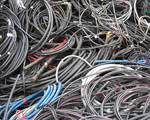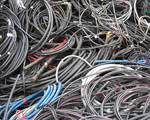 Scrappys are the leaders in recycling insulated cables.
Electrical cables are generally composed of a metal conductor inner housed within plastic insulation. Recycling insulated cables aids in the resource recovery of both the metal and the plastic outer for reuse. The most common metals used are copper and aluminium. When recycled these metals don't degrade which means they can be recycled indefinitely.
Old copper and aluminium wires covered in insulation cannot be processed directly for recycling and the insulation must be removed first. Scrappys utilise a mechanical process where the insulation is cut and separated from the copper or aluminium wire.
While various recycling companies may adopt different methods of recycling insulated cables, the basic objective remains the same – separate the metal wires from the rubber/plastic casing and extract the precious metals. After the recycling process is completed, you get concentrated copper, brass and steel fine powder.
Copper is undoubtedly the most recycled wire material as it is used in a lot of items, ranging from air conditioning units to household wires. This is due primarily as it is a very good conductor of electricity.
At Scrappys Metal Recycling Pty Ltd it is our first priority to provide the highest level of scrap metal recycling services to all of our domestic, commercial and industrial customers. We pride ourselves on our professionalism and dedication to customer service.
We provide a convenient drop off service for all of our domestic and residential customers. We specialise in removing your whitegoods, old appliances, fridges, freezers, aluminium windows, old metal roofing – and that is only the start! If you have scrap metal you want removed, call us now to arrange a collection or delivery of a scrap metal bin.
Scrappys buys the full range of scrap for recycling including copper, lead, stainless steel, scrap whitegoods, brass, nickel, steel, aluminium, PVC and wire. Plus scrap cars, machinery, radiators, batteries, pipes, off-cuts, extrusion, pressings and more.
Our scrap metal recycling centre is conveniently located in Sunshine, the heart of Melbournes Western suburbs. We offer a wide range of scrap metal recycling resources to industrial, business, commercial, residential and domestic customers. This includes competitive scrap metal recycling prices for all metals and recycling programs tailored to suit our clients.