Roofing Materials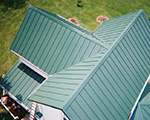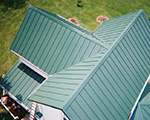 Scrappys offer a reliable and professional recycling service to manufacturers and industries utilising all forms of roofing materials.
This service extends to the manufacturers of roofing materials including metal perlins, roofing sheets, sheet metal flashing, shouting, down pipes, valleys and gutters. This light gauge pressing steel is an ideal shredder feed. Once shredded, the steel will be blended with heavier gauge material forming the base of an ideal product and supplied to a remelt facility.
We can supply a full range of bins for the manufacturing sector, together with a turn key process of supplying a full range of services to the installation of new and removal of old metal roofing materials. We can supply semi-trailers for large commercial crane lift applications and a full range of high sided transport vehicles for smaller applications.
We also provide an extensive and professional service to the building industry, plumbers and the handyman involved in the removal of old roofing material.
Our scrap metal transport logistics can provide a range of options available within 2 working days notice. We can provide a range of high sided tray truck transport for sheets and guttering lengths up to 5 metres and tray truck transport for bundles up to 6 metres. Alternatively, we can supply extendable semi-trailer transport fitted with pipe racking for oversize lengths and to coordinate these with crane lifts from large building sites. These full range of services are available anywhere in the greater Melbourne metropolitan area. We will require clear access for our transport.
At Scrappys Metal Recycling Pty Ltd it is our first priority to provide the highest level of scrap metal recycling services to all of our domestic, commercial and industrial customers. We pride ourselves on our professionalism and dedication to customer service.
We provide a convenient drop off service for all of our domestic and residential customers. We specialise in removing your whitegoods, old appliances, fridges, freezers, aluminium windows, old roofing materials – and that is only the start! If you have scrap metal you want removed, call us now to arrange a collection or delivery of a scrap metal bin.
Scrappys buys the full range of scrap for recycling including copper, lead, stainless steel, scrap whitegoods, brass, nickel, steel, aluminium, PVC and wire. Plus scrap cars, machinery, radiators, batteries, pipes, off-cuts, extrusion, pressings and more.
Our scrap metal recycling centre is conveniently located in Sunshine, the heart of Melbournes Western suburbs. We offer a wide range of scrap metal recycling resources to industrial, business, commercial, residential and domestic customers. This includes competitive scrap metal recycling prices for all metals and recycling programs tailored to suit our clients.