Scrap Metal Recycling Centre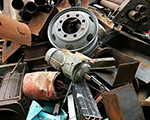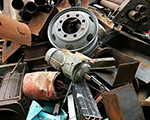 Do you have scrap metal for recycling? Do you need a scrap metal recycling company to help you with scrap metal removal? Are you looking for a metal scrap yard near you?
When it comes to scrap metal recycling and getting money for scrap metal, Scrappy's are the experts to choose. We offer a free drop off or collection service for our customers, and can even provide a collection bin to your premises.

At Scrappy's Metal Recycling Pty Ltd, it is our first priority to provide the highest level of scrap metal recycling services to all of our domestic, commercial and industrial customers. We pride ourselves on our professionalism and dedication to customer support – as our facilities and services demonstrate!
Scrap metal removal for residential customers
In addition to our convenient drop off service for all of our domestic and residential customers, we also specialise in removing your whitegoods, old appliances, fridges, freezers, aluminium windows, old metal roofing – and that is just the start of it! If you have scrap metal you want removed, call us now to arrange a collection or delivery of a scrap metal bin.
Scrap metal recycling for commercial and industrial customers
Scrappy's buys the full range of items for scrap metal recycling, including copper, lead, stainless steel, scrap whitegoods, brass, nickel, steel, aluminium, PVC and wire. We also accept scrap cars, machinery, radiators, batteries, pipes, off-cuts, extrusions, pressings and more. Call us for more info or to arrange one of our services.
Choose Scrappy's and get money for your scrap metal
Established in 2011, Scrappy's has grown to become one of the largest scrap metal recycling companies in Melbourne. Providing safe, efficient and environmentally sustainable metal recycling, we have a strong reputation for customer satisfaction, honest and accurate remuneration, excellent service, and high quality materials.
We offer a wide range of scrap metal recycling resources to industrial, business, commercial, residential and domestic customers. This includes competitive scrap metal recycling prices for all metals, as well as recycling programs tailored to suit our clients.
Looking to get money for your scrap metal? Our scrap metal recycling centre is conveniently located in Albion, right next to Sunshine and within close proximity to a number of Melbourne's major western suburbs. Here, our state of the art equipment guarantees accurate measurement and weighing of your scrap metal so you will always receive the correct money for your scrap. Call us today!