Whitegoods Recycling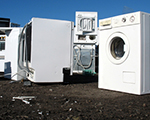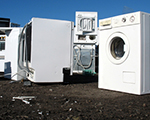 Our whitegoods recycling operation includes a full range of approved responsible recycling practices within this service sector. Scrappys is committed to reducing green house gases and their impact on climate change. Recycling old whitegoods also reduces the landfill burden.
We have gained a vast amount of experience in developing Government approved and endorsed whitegoods recycling practices. This includes accreditation with the Essential Services Commission ensuring all greenhouse depleting gases are legally removed and recycled appropriately. This involves the degassing, decommissioning and destruction of refrigerators and freezers. We offer this quality approved service to local councils, tips, householders, commercial businesses, repairers and all retailers of whitegoods and associated materials.
With our specialised fleet of purpose built trucks and our detailed approach to this activity, we can service the removal of all unwanted whitegoods and appliances. These cutting edge processes operate in accordance with EPA requirements maximising our effectiveness in responsible environmental whitegoods recycling solutions.
We accept the following for our whitegoods recycling facility:
Air Conditioners
Refrigerators
Freezers
Stoves (both Gas and Electric)
Heaters
Clothes Dryers
Commercial Refrigeration
Commercial Washers and Dryers
Dishwashers
Gas Appliances
Microwaves
Washing Machines
Our trucks can carry and transport up to 40 units at one time and will collect from anywhere in the greater Melbourne metropolitan area. All trucks are fitted with hydraulic tailgate loading systems and the operators require no assistance during this activity. Our whitegoods recycling facility has pioneered a unique value added service for this sector by providing retailers and repairers with our newly developed whitegoods and material security cage. This security cage installation becomes the key component in an income generating synergy.
It has revolutionised the way retailers and other associated companies treat these unwanted items. This unique security cage system overcomes all concerns from security, vandals, theft, OH&S and general site presentation. Our service is prompt, reliable and professional as we have specialised our expertise to this business sector.
At Scrappys Metal Recycling Pty Ltd it is our first priority to provide the highest level of scrap metal and whitegoods recycling service to all of our domestic, commercial and industrial customers. We pride ourselves on our professionalism and dedication to customer service.
We provide a convenient drop off service for all of our domestic and residential customers. We specialise in removing your whitegoods, old appliances, fridges, freezers, aluminium windows, old metal roofing – and that is only the start! If you have scrap metal you want removed, call us now to arrange a collection or delivery of a scrap metal bin.
Scrappys buys the full range of scrap for recycling including copper, lead, stainless steel, scrap whitegoods, brass, nickel, steel, aluminium, PVC and wire. Plus scrap cars, machinery, radiators, batteries, pipes, off-cuts, extrusion, pressings and more.
Our scrap metal and whitegoods recycling centre is conveniently located in Sunshine, the heart of Melbournes Western suburbs. We offer a wide range of scrap metal recycling resources to industrial, business, commercial, residential and domestic customers. This includes competitive scrap metal recycling prices for all metals and recycling programs tailored to suit our clients.